Archive for the 'Gaming' tag
One birthday present I know I am getting today – my PS3, at least according to the UPS tracking website. Of course I am not at home to see it until Friday night but it should be waiting for me when I get there. I am torn between keeping it or selling it on to a friend. It would be cool to have one but, not being home much, it is an expensive toy for something that I wouldn't get to play with very often. I'll probably at least set it up to see it in its full high def glory, playing Resistance on a 51″ LCD will definitely beat playing it here in the office on the piece of s*$t TV I have it attached to.
And for those of you who wish to add me to their buddy list, my handle is aPetulantMarmot. See you on the killing fields.
You know things are getting desperate when you have to put nekkid chicks in your ebay auction in order to sell your item. And isn't the PS3 sexy enough??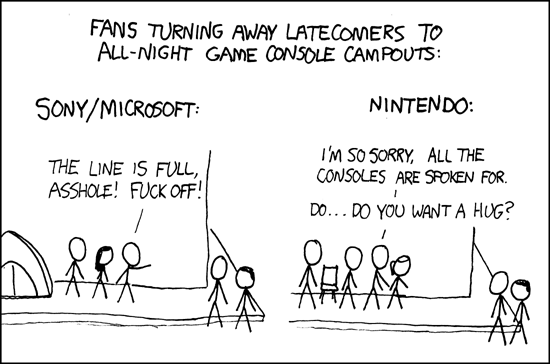 Source: xkcd.com.
Two interesting articles today:
According to the blog of a Fry's employee, Fry's will be forcing customers to purchase 8 games with their PS3 this weekend, making the combo-pack a potentially tasty $1200! Oh, and while they're at it, they are going to insist you buy 5 games when the Wii goes on sale on Sunday.
GameStop and EB discovered today that they will only be receiving half of their initial first-day allocation. I wonder how many of the ebay people who have taken $000s for their 'guaranteed day one shipment' will be sweating it now…. in an email to store employees, GameStop said it expects weekly shipments from Sony and everyone who pre-ordered will receive a system before Christmas.
According to this report at MSNBC, a total of 88,400 PS3 were sold over the weekend in Japan. What I find odd is that supposedly 100,000 PS3s were shipped so what happened to the remaining 11,600? Everything I've read says everywhere was sold out so I suspect this isn't quite accurate. The interesting thing is that a lot less than 88,000 games were sold which means a great many console buyers did not buy a game to play. At first I thought this was mighty odd but then I realised that these were consoles designed for immediate resale, "used" PS3s are already selling at twice the retail price in Japan. Though this is nothing compared to this ebay auction where a pre-order for a PS3 went for $9100!