Archive for the 'Gaming' tag
Ooh, the word 'upskirt' should get me some hits! Last week I raved about Hot Shots Golf 5, coming soon to a PS3 near you and in doing so I mentioned the short skirts some of the female players wear. Well, thanks to perverts with too much time on their hands (there was a joke here but I narrowly avoided making it) it is apparently possible to check out what these girls are wearing on the course. Not sure which is crazier – the fact that someone went to the effort to find out if you could look up the skirts, or the fact that the Japanese would code for that eventuality. Anyway, here for your viewing pleasure: Hot Shots Golf pantsu:
All this week I've been hooked on Hot Shots Golf 5 for the PS3:
Right now it's a Japan-only title and that to me is most of it's charm. Check out this video trailer and see what I mean. You've got the crazy looking characters, and even some cute chicks in non-LPGA short skirts and stockings but its the music and the manic Japanese voices that make it so much fun. The courses are gorgeous – ostriches were walking across the green yesterday when I was trying to sink a putt on an Africa-themed course – and the control mechanisms straightforward.
I'm really not sure what is going on outside the golf since all the menus and announcements are in Japanese but that's it's charm. The US version comes out October 1st and I think it's a must buy, though I wonder what it will sound like in English. I'm told that previous versions did a great job but we'll see.
A few things out today you might want to spend some pennies on:
See you at Fry's?
Yesterday Sony unveiled the much-leaked, controversy-causing, Home product for the PS3. I saw this last summer and was pretty impressed with what they had already, and in this trailer it looks like they have gone a lot further. Part Mii, part second-life, parts unknown, there will surely be many people who prefer to spend their entire life at "Home" rather than with the rest of us. So sit back, watch the trailer and be impressed. Oh, and it doesn't hurt that there's a sexy English chick doing the voiceover.
I've had the PS3 a couple of weeks now, played it more than I expected but less than the price tag deserves. There's no doubt that the graphics are slick, all the games look very nice in high-def (well, 720p anyway) and its clear that the machine can do a lot more than anyone is asking of it right now.
Resistance of Man: Great first person shooter, the atmosphere it creates is perfect and the online match making feature is great for finding people to play with. Probably my favourite so far.
NBA '07: Only played this for 10 minutes, couldn't get the hang of the controls and haven't put it back in the machine since. I'll give it another go but I wasn't taken with it like the others.
Genji: Not usually my kind of game but the graphics are great. Sound gets real annoying during a long fight, though. Definitely better than I expected.
Blazing Angels: Lots of fun here flying old WW2 planes and taking care of Jerry. Some vertigo-inducing maneuvers to be had, great graphics on screen. Flying by the sixaxis controller motion was impossible, though. Probably my joint favourite with Resistance.
Worthy Mentions: The demo versions of Motorstorm and Gran Tourismo HD were very good indeed, the former being lots of fun, the latter just looked gorgeous.
Sony needs to fix two things fast, though. First, downloads need to happen in the background. It is no fun to be told the system needs to update and then not be able to play for the next two hours. Seriously, background downloading is old technology. Second, the algorithm for choosing the TV resolution needs to be changed to pick the best one available for the game. If you don't have 1080p Resistance will look best in 720p but, unless I tell it not to, the PS3 chooses 1080i for everything. Can I tell the difference? Probably not, but its definitely something that should be changed.
One birthday present I know I am getting today – my PS3, at least according to the UPS tracking website. Of course I am not at home to see it until Friday night but it should be waiting for me when I get there. I am torn between keeping it or selling it on to a friend. It would be cool to have one but, not being home much, it is an expensive toy for something that I wouldn't get to play with very often. I'll probably at least set it up to see it in its full high def glory, playing Resistance on a 51″ LCD will definitely beat playing it here in the office on the piece of s*$t TV I have it attached to.
And for those of you who wish to add me to their buddy list, my handle is aPetulantMarmot. See you on the killing fields.
You know things are getting desperate when you have to put nekkid chicks in your ebay auction in order to sell your item. And isn't the PS3 sexy enough??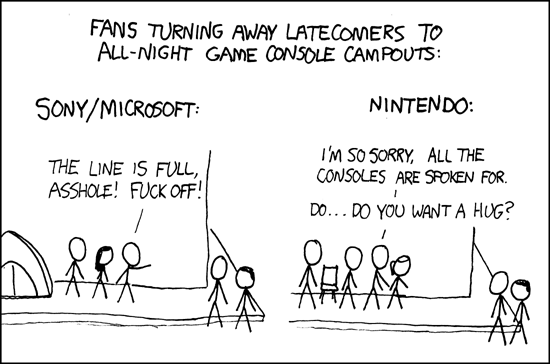 Source: xkcd.com.
Two interesting articles today:
According to the blog of a Fry's employee, Fry's will be forcing customers to purchase 8 games with their PS3 this weekend, making the combo-pack a potentially tasty $1200! Oh, and while they're at it, they are going to insist you buy 5 games when the Wii goes on sale on Sunday.
GameStop and EB discovered today that they will only be receiving half of their initial first-day allocation. I wonder how many of the ebay people who have taken $000s for their 'guaranteed day one shipment' will be sweating it now…. in an email to store employees, GameStop said it expects weekly shipments from Sony and everyone who pre-ordered will receive a system before Christmas.
According to this report at MSNBC, a total of 88,400 PS3 were sold over the weekend in Japan. What I find odd is that supposedly 100,000 PS3s were shipped so what happened to the remaining 11,600? Everything I've read says everywhere was sold out so I suspect this isn't quite accurate. The interesting thing is that a lot less than 88,000 games were sold which means a great many console buyers did not buy a game to play. At first I thought this was mighty odd but then I realised that these were consoles designed for immediate resale, "used" PS3s are already selling at twice the retail price in Japan. Though this is nothing compared to this ebay auction where a pre-order for a PS3 went for $9100!